There are some amazing places to fish for bass. The Upper Mississippi River is right at the top of the list. 
Bass anglers looking to fish the Upper Mississippi River should expect to catch largemouth and smallmouth bass in both numbers and size.
I have been blessed to travel to some of the best fisheries in the United States. The Upper Mississippi River makes my top 5 for sure. The numerous national bass tournament circuits that frequent the area also let anglers know this place is special.
This is not your "Muddy Mississippi"
I remember traveling south towards St. Louis and looking at the Mississippi River and thinking there is no way I want to bass fish that hot chocolate mess. Because of this experience, the first time I was invited to fish the river at LaCrosse, Wisconsin I was skeptical.
I went anyway and am I glad I did.
Within minutes of leaving the boat launch I was sold. The scenery is second-to-none and the waters are clear to slightly stained depending on the current rainfall. It is a far-cry from what the river looks like in southern regions of the country.
The Upper Mississippi is also home to many thousands of acres of backwaters, sloughs, and tributaries that make for a maze of possibilities. Each one looks like a bass anglers version of Heaven – and having a GPS is a great item to have on your graphs.
I could go into detailed specifics about where I launch, love to fish, and point out a few honey holes, but this would do you a disservice. Why? Because I'm sure that my great places are nowhere near the best that exist.
Instead, I will talk about the way I approach the Upper Mississippi as a whole and discuss some of the key factors I have found to be successful. Pools 7,8 and 9 are brimming with top-notch anglers that call this region home. I feel blessed to have had the opportunity to share this amazing natural resource with them.
The River is Always Changing
As with most rivers, the conditions on the Upper Mississippi change often. Some days the term "often" should be replaced with by-the-minute. 
Numerous tributaries that are fed by thousands of acres of land can be running clear and clean one minute and then dump flood waters the next. Locks open up and close both upstream and down that cause the current to suddenly pull or slow. 
Each time I visit this famed fishery, it looks and feels like a new place yet is still strangely familiar. You'll find out what I mean when you first cast a line.
What to Look For When Fishing the Upper Mississippi River
No matter which section of the river I am fishing, main channel, tributaries, or sloughs, the number one factor for me is deeper water access.
It doesn't need to be deep water, just an area that offers bass the opportunity to change depth easily and adjacent to the cover I am fishing. 
A perfect example would be a railroad embankment. The 45 degree bank along most of the riprap shorelines are excellent places to find bass no matter the season. Within these high-percentage areas there will be "sweet" spots that take some time to locate and can easily change based on the current. Once you find that spot-within-a-spot there could be a pile of bass sitting there. I'm talking about double digit numbers.
Another example of this is there are plenty of sand bars or rock piles that are swept over the tops by the current. These areas are often fairly shallow on top, but right in front and often downstream, deeper water can be found – even if it is only a foot or two. That access to deeper water has been key for me time-and-time again.
I can't even tell you how many smallmouth I have caught by running a squarebill through some shallow rock or sand, dropping it into a hole behind that structure and then feel the rod load up.
There are anglers up there that can catch a pile from flats, especially during the spawn, but the consistency of deeper water access has been key for me.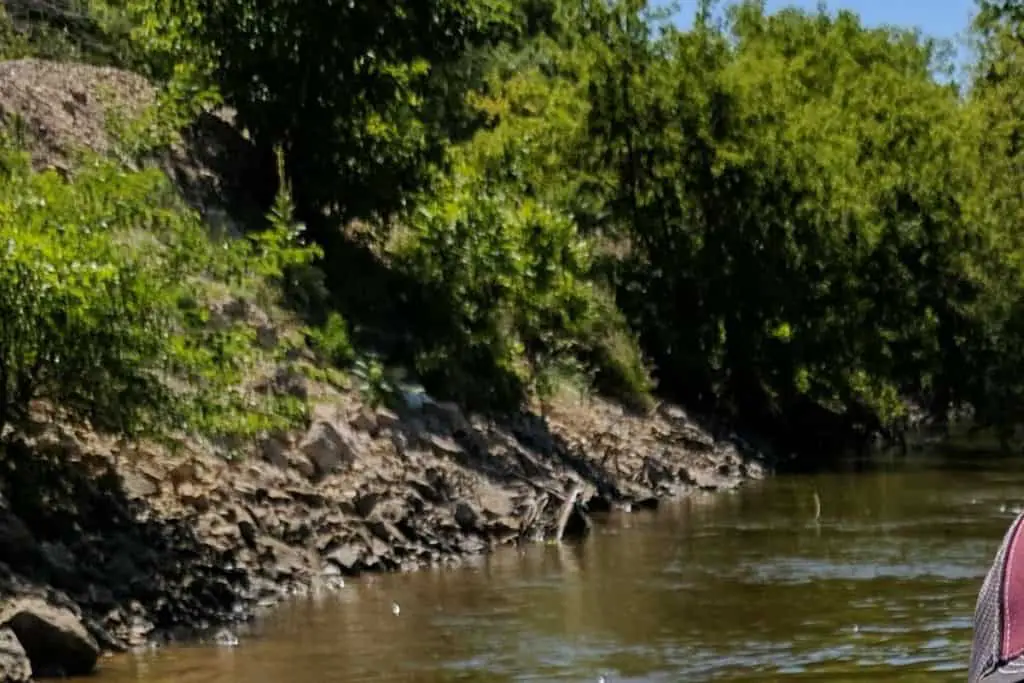 Current is Everything on the Mississippi 
The bass, both largemouth and smallmouth, position themselves and relate to the current. 
The largemouth are more apt to find protection from it than the smallmouth, but both species rely on it to keep the food coming.
Fishing into the current and bringing your boat upstream into it will yield many more bites than letting the current wash you down the bank. In fact, I replaced my trolling motor on my bass boat and upgraded to a stronger one just because of my love for fishing the Upper Mississippi. It has made a huge difference in the numbers of bass I catch.
A trolling motor with GPS anchor lock or shallow water anchors can be a game changer in this fishery.
Look for Numbers of Bass in One Area
Bass are social creatures, but this river has a tendency to pile them up. 
The smallest, most inconsequential looking spot can hold a huge number of fish.
This is the only place I have been where I have had three anglers in the boat and we caught triple-after-triple. Yes, I am referring to all three anglers having a bass on at the same time, landing them, cast in the exact same spot and repeating the process again. And again. And again.
It can be that good. 
When you catch either a largemouth or smallmouth, work that area over carefully. 
The only exception to this is when the water is high. Then it is not unusual to find them quite spread out.
Pick One Area You Like and Fish it Carefully
The amount of water on the Upper Mississippi can be overwhelming. Then add in Lake Onalaska and the Black River and the possibilities are vast. 
There is no way to cover everything in these three pools on one fishing trip. It would take a lifetime to master this fishery, so instead, find something that suits your style of fishing and really break it down.
I am a huge fan of fishing the sloughs. I love how all the current twists and turns through them. I also spend a lot of time hammering the endless expanses of rocky shorelines and enjoy my time in the Black River as well. But I have had many, many trips there covering any conditions you can think of from March through November. 
I Like to Find Clean Water
When there has been no rain for some time, the entire system clears up, but the Mississippi drains such a vast area, there are usually some locations that are cleaner than others.
These are the places that I try to locate if I can. 
Keep in mind, I live on a lake that is gin-clear to the 20ft mark, so this type of water is comfortable for me. Other anglers prefer some stain or color to the water. Unless the entire place is flooded out, you will be able to find the water clarity you prefer.
I cannot get enough of the famed smallmouth bass – which is why I scout out the clearest water I can locate. 
Lures and Techniques for the Upper Mississippi River
There is something for everyone here. Literally. 
This section of the river, in my opinion, is the birthplace of the swim jig. I know that probably is not 100% accurate, but the swim jig produces a ton of bass in the Upper Mississippi and some of the best swim jig anglers in the world call this portion of the United States home.
Probably the next most talked about lure here is the hollow-body frog.
When it is right, the frog bite just may be the best anywhere. Seriously.
I have also caught loads of bass on wacky rigs, flipping jigs, shallow crankbaits, squarebill crankbaits, topwaters, and suspending jerkbaits. I'm serious when I say that you can find a place that fits your fishing style.
What you choose may not be the most efficient way to catch them at any given time, but you'll be able to catch something.
This is one of the only places that I have fished where my goal is always a fifty fish day and the best days can yield one-hundred bass. Now you know why I point the truck and trailer that direction as often as I can. 
Keep Searching and Searching Until You Figure Out What's Going On
Don't let the river frustrate you if the boat is not teeming with bass right away. 
As I mentioned earlier, the river is always changing and each trip means some time needs to be spent figuring out what is happening. 
There have been plenty of days where I spend the first two or three hours without much of a bite going on. Then I put a few pieces together, find how the current has positioned the bass at that moment and the catch-fest begins. 
It is not unusual to sit, fishing one small area for thirty minutes or more, after I locate one of these magical places. The bass keep replenishing themselves as new fish come in to feed and others slip back to rest. 
Using Google Earth is a Must on the Upper Mississippi River
Topo maps on electronics are great, but the satellite images provided by Google Earth are the real tool I rely on the most.
Scrolling up-and-down the river from a bird's-eye view is helpful when figuring out how the current moves through an area. Depending on the moment when the image was taken from space, you can even see dirty water and clear water.
Use the Historical Imagery portion of the app to take a look at snapshots from many different years. This is how I found a spur-of-the-moment honey hole on one trip.
I was fishing up towards the Minnesota Slough when a surge of flood water burst forth from one of the tributaries. In moments, the portion of the slough I was fishing turned into fast, untamed, mud. 
No worries. I pulled out the satellite imagery and discovered something amazing.
There was a pocket sitting alongside the main path the current was taking, but not impacted by the mud flow. We idled into the pocket and found clean water. The mudline between the main flow and this pocket was one of the most defined I have ever seen.
The bass thought so too because this area was teeming with largemouth. It was so much fun.
This is how Google Earth can change your day of fishing immediately and for the better.
Rules and Regulations While Fishing the Upper Mississippi River
Depending on which pool you choose, you will need a fishing license for either Iowa, Minnesota, and/or Wisconsin. 
There are state license reciprocity agreements as long as anglers are within the boundaries of the river – which is determined by the railroads on the east and west side.
The following is taken from the Wisconsin Department of Natural Resources website and explains the license requirements:
Special rules, regulations and agreements apply when fishing the Upper Mississippi River. Reciprocity agreements between Wisconsin and the states of Iowa and Minnesota allow a person to fish the boundary waters on the Mississippi River providing they have a valid fishing license from one of the adjacent states. The boundary waters area is defined by the railroad tracks that parallel both sides of the river. However, residents must possess a resident license when fishing in their own states boundary waters. Regulations between Wisconsin and the other states differ so anglers must obey the regulations in the state they are fishing.
Taken from the Wisconsin DNR Website
Since the Mississippi River is a commercial, navigable waterway, it is regulated by the Army Corp of Engineers and it is common to see the Coast Guard doing boat checks.
While planning for your trip, make sure that you have all of your safety items and paperwork in order.
The river has different requirements than a local lake or pond. Some of these special items include a whistle and flares. A safety kit can be acquired at most marine retailers and will include what you need.
Here is the link to boatsafe.com with required safety items. 
Be Careful Driving Your Boat
I would be remiss if I didn't talk about the many hazards and situations that exist on the river. There is nothing to be scared about, but having a healthy dose of respect for this ever-changing waterway will help avert problems.
First, the barges have the right-of-way and they should. A little 20ft bass boat is much more maneuverable. Be careful when passing them, look out for other traffic, and be able to understand navigational markers and stay within the channel when running at higher speeds.
The main river is stuffed with wing dams to help with silt removal. When the water is low, running across a wing dam will ruin your day real fast. These man-made structures are easy to spot because the current is rippling over and around them. 
Keep a constant eye on the current. It will help you read the water and know what potential hazards are just below the surface.
I always, always, always come off-plane when I leave the main channel if the area I am heading towards is unfamiliar. There is no need to crash into a marooned tree, tear the prop apart on a rock pile, or slide up onto a sandbar and get stuck.
As mentioned earlier, the river is always changing.
Final Thoughts
The Upper Mississippi River is one of the most beautiful and enjoyable places I have ever fished for bass. 

Catching both largemouth and smallmouth consistently is a sure-fire way to keep the smiles coming and the memories full.
If it is your first time, pick one area and give it your best effort. There are bass there. Lots of them.
Be safe, let me know how it goes and make sure to encourage someone today. You never know how you may change their life forever.
Isaiah 6:8