Parting with your bass boat can be an emotional process. Remembering the day that you brought it home was exhilarating, but now it is time to move on. 
Taking the proper steps in preparation for that inquiry will ensure that you, as a seller, are prepared and ready to handle the inevitable questions. 
1. Clean the Boat – Thoroughly
This may be the easiest and most effective thing you can do when selling a boat. 
First impressions are something that will not get a second chance. A potential buyer will judge the rig for sale within seconds of that initial once-over. If you are trying to sell your boat fast, taking part of a day to give it that showroom shine will pay dividends.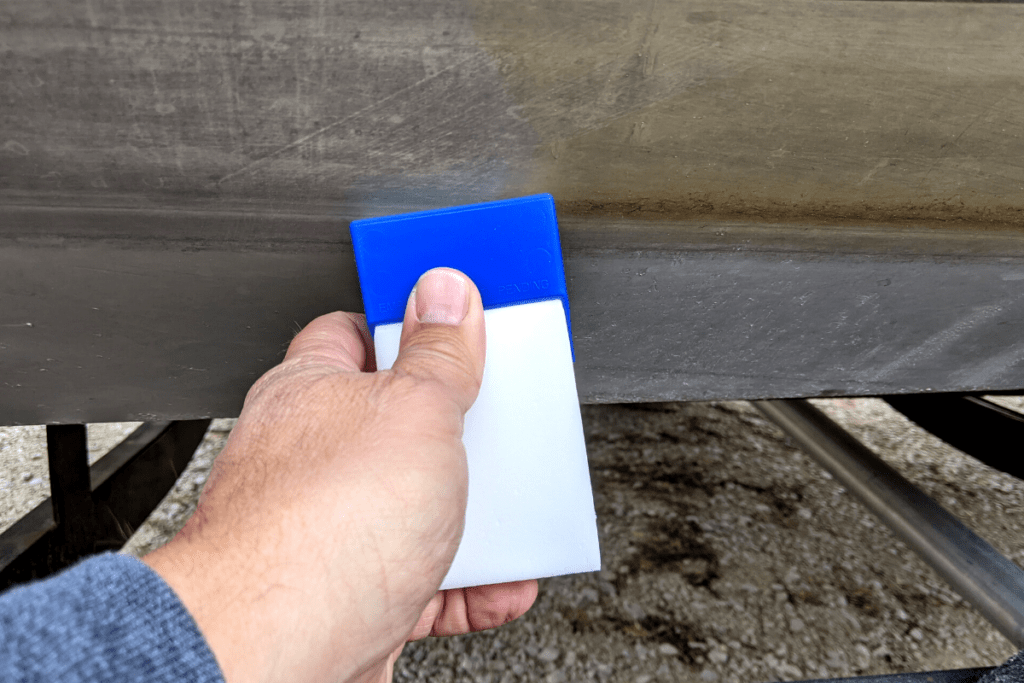 Remove the Scum Line
There is nothing more unappealing on a boat than a nasty scum line cutting across the hull. If the boat was kept in the water there is a possibility that the line is quite defined.
You can clean a scum line off yourself, or you can have a local boat dealer do it for you.
I have used products like Colonel Brassy to take the dirt off of an aluminum hull. The product is not meant to be used on paint, but if you have bare aluminum, this product does amazingly well.
There are many different items on the market to help remove the scum off a fiberglass hull. One product that does a nice job is the Magic Eraser from Mr. Clean. I recently took one of these sponge-like cleaners and in seconds wiped an entire years worth of scum off the bottom of my boat. 
As always, try the products on an inconspicuous area of the hull before working in more visible locations.
The effort put into cleaning the hull will allow you to potentially get that initial asking price.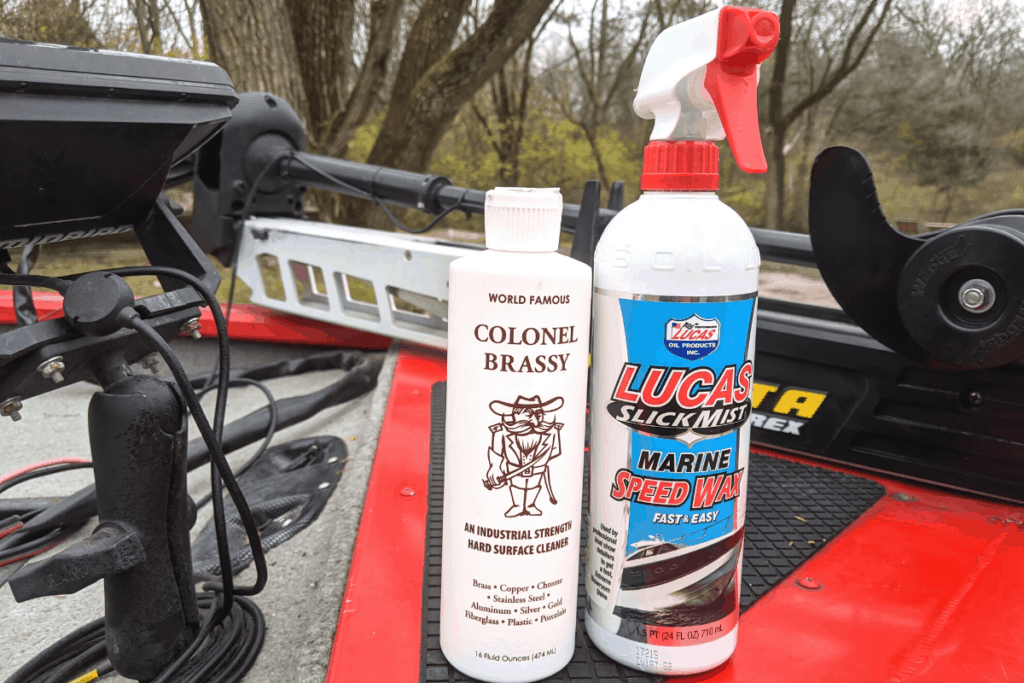 Add a Shine
One of my favorite products is from Lucas Oil. It is called Slick Mist Marine Speed Wax. This stuff will shine your boat right up and make it look showroom ready.  
I can spruce up my entire boat in under ten minutes and as I mentioned earlier, a good first impression from a potential buyer is well worth the time and effort.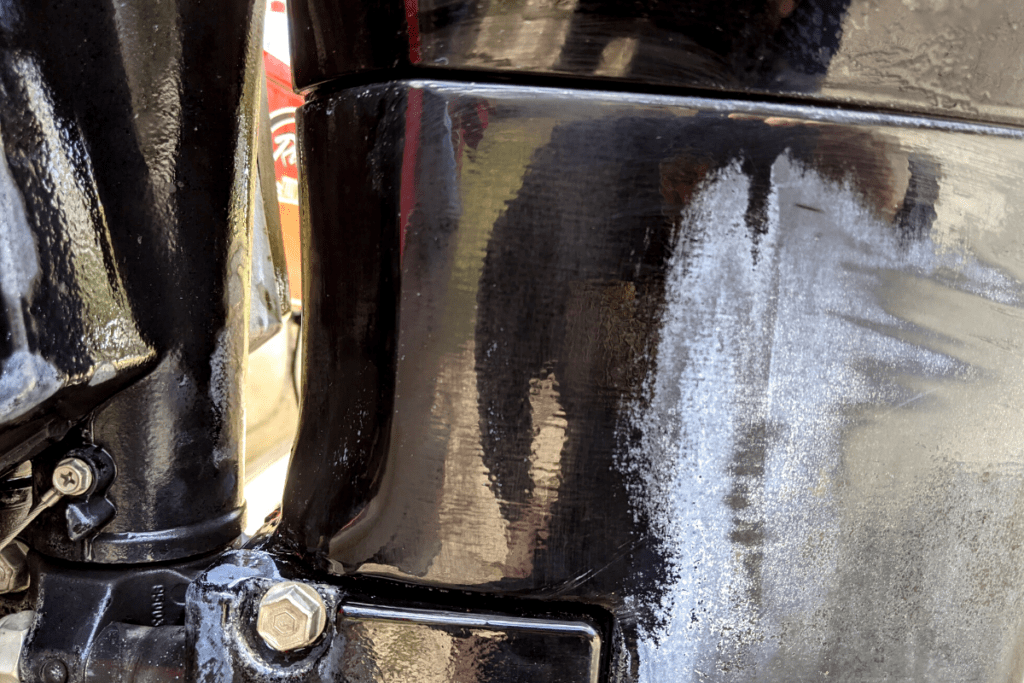 Clean the Motor
The outboard motor can take a beating. The cowling shows water spots and the lower unit tends to build up with white residue that looks nasty.
The cowling is easily shined up with automotive soap and water. Finish off with a nice coat of wax and it will look great without much time wasted.
To remove the white residue off the midsection of your motor, take some distilled white vinegar and mix it with water. Spray down the mineral build up and keep it moist. Using a micro-fiber cloth and a little elbow grease will begin to take the residue off. 
Start with a 50/50 mix of distilled white vinegar and water.
Clean the Trailer
Boat trailers are usually neglected. Thankfully, they are pretty easy to clean off. Often, soap and water is all that is needed.
The Marine Speed Wax is tremendous at giving the trailer a quick shine that wows those potential customers.
Other Items to Clean Off
 –  Tires
 – Vacuum Carpet
 – Remove grease from the rims
 – Use glass cleaner on the windshields and graphs
2. Type Up a Maintenance Log
Depending on the age of your bass boat, you may-or-may not have much routine and scheduled maintenance to list. 
If you have had your boat for several years, it is a good idea to type up a list of the regular service items that you had done.
Has the lower unit fluid been replaced? 
If you have a four stroke, how often was the oil changed?
Was the boat winterized? Kept in a garage? When was the last time the batteries were replaced? 
This type of information does not take long to compile and potential buyers will be comforted by knowing the boat was taken care of. Handing them this list of routine maintenance after they have seen a clean boat is ensuring the potential sale has the best chance of being completed.
3. Be Honest about Flaws and Blemishes or Damage
Bass boats can take a beating depending on the waters that they called home. Rivers and shallow impoundments are apt to leave some battle scars.
Are there stress cracks in the gel coat? 
Is there hull damage that has been repaired?
These items are not deal breakers, but the buyer will feel much better if these types of things are openly and honestly communicated. 
I once sold a boat that took a severe beating in a storm. I had rented a boat slip at a resort in Table Rock Lake when high winds blew up overnight. The next morning when I went to get ready I noticed that three of the four tie-down cleats had been ripped clean off the hull. 
When I went to sell the boat I showed the interested party, told them what happened, and they still bought the boat. They appreciated knowing what happened and planned on fixing it.
Remember, most folks that are looking to purchase a used bass boat understand that things happen. In fact, many buyers even have budgeted for potential upgrades and repairs.
4. Be Willing to do a Test Drive
I have taken potential buyers on test drives for every boat I have sold. 
By the time the ride was over we were signing papers and negotiating payment. 
The willingness to take the time to ride with someone, let them drive the boat, and answer any other questions they have shows you want them to be happy with the purchase.
Sometimes you will hear people say that you should drive it before the buyer gets there to make sure the motor is warm and starts right up. 
I prefer to let them start the boat on a cold motor and see what it is really like. Let them know this. They will appreciate your honesty.
Turn on Everything During the Test Drive
Take the time while you have the boat on the water to show the buyer all the accessories. 
Turn on the graphs, fill the livewells, show them the bilge pump works.
Flip on the navigation lights.
Run the trolling motor through every speed and turn the head. 
If there is something that does not work let the buyer know.
This is also a good time to let the interested party take the boat through the paces. Make some turns, show them the hole shot, if there is a hydraulic jackplate be sure to explain how it works,  run the shallow water anchors up-and-down, is there chine walk or does the hull ride steady at high speeds? 
The more time you spend with the buyer on the water the more comfortable they will be understanding exactly what they are getting.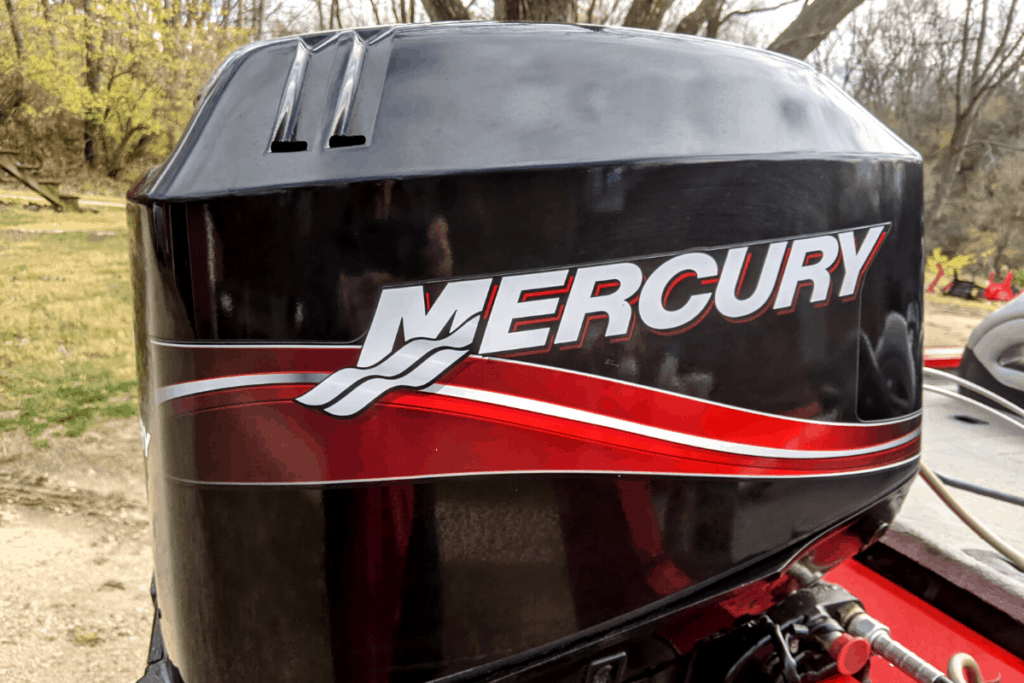 5. Take the Best Photos Possible
If you are going to list the boat online through a website, take the effort to have the best photos you can take.
No, you don't have to hire a professional photographer, but you should expect to spend a good thirty minutes of your time to get the results you want.
If taking photos inside a garage and the lighting is poor, set up some shop lights to better represent the boat. 
When weather allows, take the photos outside on a sunny day. It is amazing what a difference that simple tip can make. Sunshine presents a positive feeling where-as clouds are more doom-and-gloom. Just be sure the sun is lighting the boat and not creating a backlighting situation which can hamper your exposure. 
Open every lid and take photos of each compartment. Be sure to get good images of the battery compartment as well. Shots from various angles also show the buyer that you want them to get the best understanding of every aspect of the rig.
When I've been in the market for a boat I always tended to give a more serious look at a rig that had plenty of photos. Once again, if there are blemishes, this is the place to show the potential buyer. 
6. Research Your Pricing
Be honest with yourself on pricing. Many boat owners add lots of upgrades to their rig, but this does not always translate to a higher asking price. Unfortunately, many sellers have upgraded the outboard motor at some time and this rarely adds much value to the overall selling price. I know. It should, but the market just doesn't see it that way. 
Spend some time on the Internet and really look for boats that are comparable to yours. 
A friend of mine always approached his pricing this way, "I want to be just on the high side of right."
I love the way he put this. He's not looking to gouge anyone or ask a ridiculous price, but he knew that there was likely going to be negotiating involved.
Is he started just on the high side of a fair price he usually ended up with what he wanted.
If you have done your work ahead of time by cleaning the boat, shining it up, and providing shoppers with numerous high quality photographs, odds are you will be quite happy with the price you get.
7. What is the Owner History?
If you are not the original owner of the boat, it is best to communicate what you know of the rig's history.
Has it always been used locally?
Did the boat travel all over the country?
Has the boat been kept in a garage, left in the water, or parked outside?
The more you know about the boat's history, the more comfortable the buyer will be.
8. Check with a Reputable Dealer
If you don't mind losing a little of the asking price through consignment fees, a quality boat dealer may be able to move your boat fast.
Dealers are aware of folks looking for boats and what their budget is. Often, a dealer may not have exactly what a customer is looking for in a used boat, but they will be quick to call someone when they think the right used rig just came in.
A good boat dealer will also be able to help out with detailing the boat as well as any simple maintenance items that should be handled before a sale happens.
9. Think About an Advertising Budget
If you want to sell your boat on your own, it is helpful to throw some advertising dollars in.
Most online boat-4-sale websites reserve their top section of the pages for paid promotion. 
Depending on the value of your boat and the asking price, dropping a few dollars into paid placement is a good option.
Popular websites that sell boats may have hundreds of listings. Your post may soon be so far down the page that it rarely gets seen. 
Once again, quality photos that show every aspect of the boat will do much better on Internet sites than poor quality images.
10. Be Willing to Meet a Buyer Half Way
If you have a serious prospect interested in your boat, be willing to meet them somewhere if they live far away.
The Internet is a great place to sell, but often the sale is hundreds if not thousands of miles away.
For buyers that are on the fence, your offer to meet them for delivery can be the key tipping point in your favor.
Obviously, the more you are getting for your boat the more apt you are to drive a distance to meet a buyer. 
Final Thoughts
The care, time, and preparation a seller puts in before a boat is listed for sale almost always results in a better offer and quicker results. 
Most sellers can work through this entire list in one long day. 
It is always a relief when the boat you are selling is hitched to the new owner's truck and heads down the road. 
You then have the option to bank the cash or, even better, start looking at your next boat!
Good luck. Tight lines and be sure to encourage someone today. You never know how you may change their life forever.
Isaiah 6:8