Many anglers dream of calling a bass boat their office – especially if they hate their 9-to-5. Being a professional is difficult. Rising to the top level of bass fishing requires dedication. These are 6 things I learned from fishing with-and-against some of the best in the world.
Whether or not we want to be a professional angler, there are 6 things we can learn from them to help out our own success rate. Pro bass anglers have many of these characteristics. They live near a world-class fishery, they are patient, excellent at casting, spend countless hours on the water, know their electronics, and realize everyone has a bad day.
In this article, I will go over these 6 areas and what I learned from either fishing with them or getting my tail-end whipped by them in a tournament.
We See the Glam – Not the Grit
In this world of instantaneous media coverage, it is easy to only see the icing sitting at the top of the cake. 
When watching a tournament recap it seems that everyone was catching fish. When browsing our favorite magazines there are dozens of photos of giant bass. 
It is common to see the bass fishing world through rose-colored glasses. That is what is portrayed to the masses.
What we don't see is the endless preparation, hours of solitude, and the sunrise-to-sunset approach that fuels the experience needed to make adjustments.
These following are the things that stood out when I think about my time with some of the best.
Patience and Persistence
These traits are universal. 
Many of us load the boat on the trailer when the day is tough and the fish have apparently vanished. We let our minds wander and lose focus. Soon casting is just a motion without much thought to what is going on. 
When I have fished with top pros, patience jumps out. 
Mark Davis, Bassmaster Classic Champ and 3-Time B.A.S.S. Angler of the Year, is the poster-child for patience. 
He keeps at it – grinding away. Mark knows that it is only a matter of persistence. Yes, there are moments when we run out of time like at the end of a tournament day, but keep at it.
When we fished together on his home waters of Lake Ouachita, it was hot. I mean really hot. The type of hot that means 6 o'clock in the morning is so humid and sticky going back inside to the air conditioner sounds so good.
I lost my focus instantly.
Not Mark.
He was patient and continued to persist. We were looking for a school of offshore largemouth in a creek channel. It took a few hours, but Mark found them
We proceeded to have one of the most memorable days on the water I have ever experienced. 
Patience of this magnitude is hard to master.
That is one reason why these anglers are great.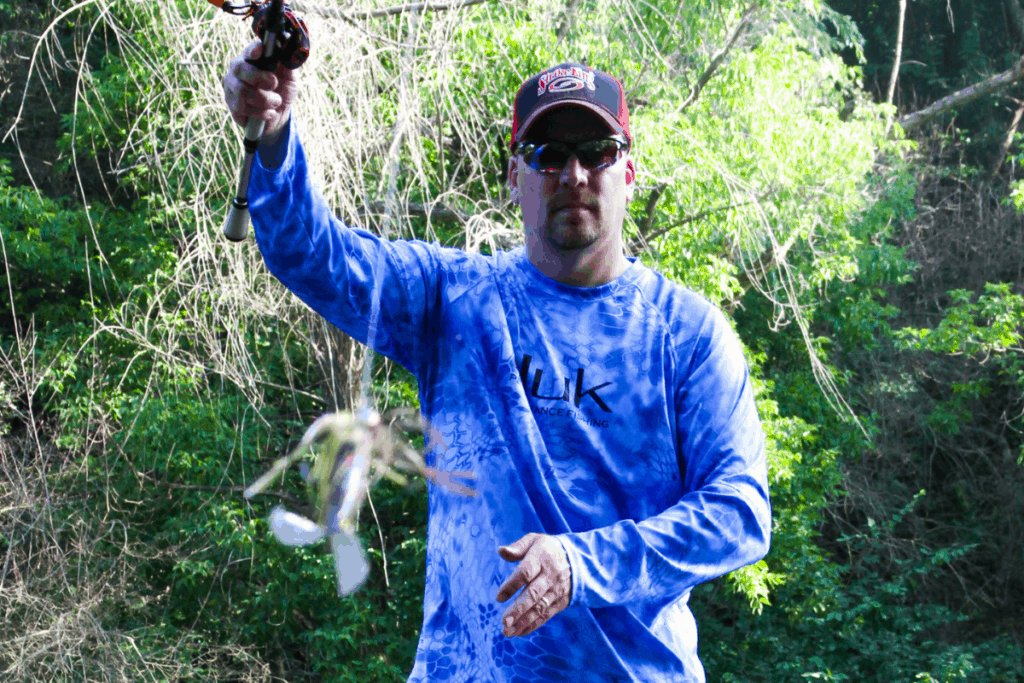 Casting is Critical
The first time I stepped onto the boat deck with Gerald Swindle he had just come off of winning the B.A.S.S. Angler-of-the-Year title in 2004. He was on a roll.
So was his casting.
His skill at putting a lure just where he wanted it was so impressive I was embarrassed to even attempt a cast. 
Not only was he accurate, but he was also fast and efficient. 
Gerald could pick apart a laydown tree before I even tied on my first lure.
It was a beautiful thing to watch – and learn from.
The wonderful thing about casting a lure is that we can all improve every time we hit the water. It is simply putting in the time and practicing. 
We can also practice in our own yards whenever we have a spare minute.
Think about it this way. If I spend ten minutes practicing in the yard and make twenty casts during those ten minutes, that means over the month I made six hundred more casts than I otherwise would have. 
What about if I practice twenty minutes? It is exponential.
That practice will directly result in more bass the next time on the water. Guaranteed.
The goal is to hit the target the first time. Not the tenth time. Great baseball players take thousands of swings off a tee. Great anglers take thousands of casts.
Time on the Water
We all know this, but what does it really look like?
Many years ago, I had a Bassmaster Open event on Oneida Lake in New York. At that time I was camping to keep costs down. Right across from my spot at the Oneida Shores County Park Campground was a truck camper and a very nice bass boat.
They belonged to Shinichi Fukae. He crossed the big pond from Japan and was quickly claiming his spot in the American bass fishing scene. 
I spent the entire week across from him and learning. What stood out the most?
His amazing ability to put in the time.
I tried to get up and on the lake before him. I couldn't do it. 
What was more impressive was the hours he put in during the day. I would have the boat cleaned up, dinner made, and chilling around the campsite and he still wasn't back. 
 Finally, as I crawled into the sleeping bag I heard his truck backing the boat into his campsite.
The result? He pulled out a 2nd place finish and took home over $41,000 in cash and merchandise. 
I, on the other hand, am still trying to get that tournament out of my mind.
Putting in those kinds of hours is not for everyone, but I know for sure that the knowledge he gained of the fishery during that time gave him enough time on the water to put together a nice paycheck.
It doesn't always work out that way, but no one was going to tell Shinichi that he didn't give it everything he had.
There is something to be said about burning yourself out as well, but time on the water is a proven factor in success. Even if we carve out two more hours a week it will make a difference. Besides, the grass will still need mowing when we get back.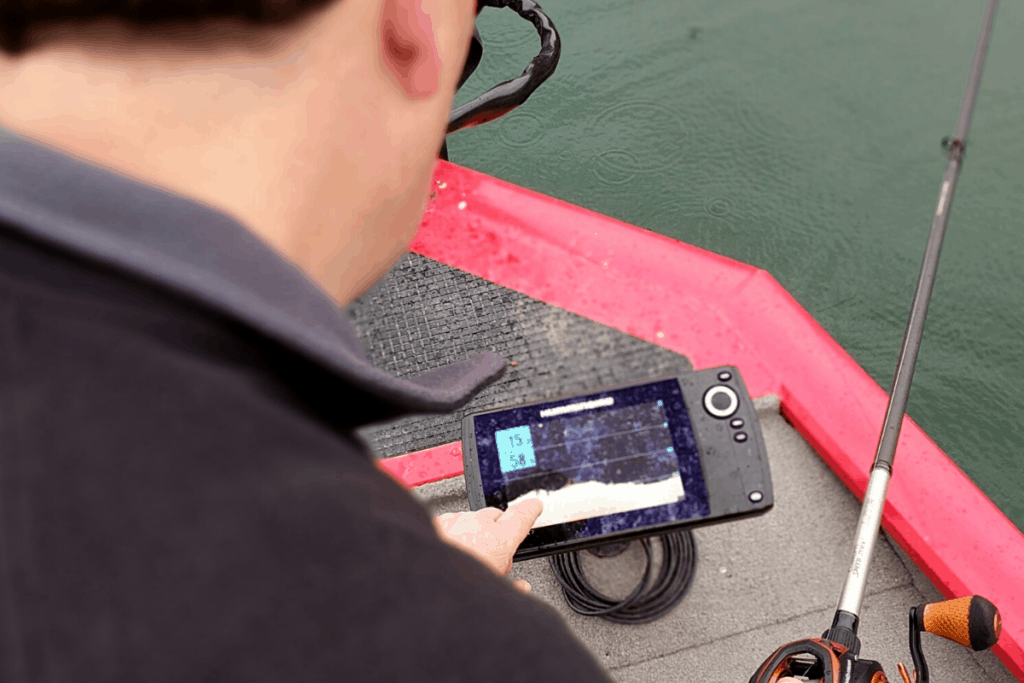 Master Those Electronics
I think it is safe to say that the majority of bass anglers prefer to attack visible cover that is shallow. 
I only wish every outing was like that. There are many times when big bass move offshore and hunker down. Mastering those electronics is the first step to catching those harder to reach fish.
Electronics today are vastly superior to those models even from ten years ago. The readouts are more responsive, realtime in some cases, and the clarity with the Megahertz models is almost obscene.
Still, how many of us spend time practicing with those electronics? 
Flashback to a 2005 event I fished on Lake Champlain. Kotora Kiriyama was an angler that understood how to make the most of those graphs on the front of his boat.
He drop-shotted his way to a 4th place finish by looking for big smallmouth on his graph. 
He put that trolling motor down and covered a ton of water without making a cast. He was staring at the graph. When he saw a blip that looked specifically like a smallie, he dropped down, caught it, and moved on to the next one.
He understood his electronics so well that he could find the bigger smallmouth.
I was on a ton of 2-3lb fish. My inexperience on Lake Champlain caught me off guard. I thought I had a check for sure. Instead, I finished 76th. 
Kotora knew he needed bigger smallies to stand a chance. He found them with his electronics and put himself in position for a big payday. 
That comes with time and a concerted effort to learn every aspect of those electronics. It takes a lot of dedication to stop casting and really dig into the settings, what the readout means, and practicing how to target deep fish. 
How does a graph read in thick vegetation? What does rock look like? Is that a bass or a striper? How fast should the readout be? 
I never forgot this event all those years ago. In fact, I saved a family vacation on Table Rock Lake late one summer because of this event.
Table rock can be notoriously tough in the late summer as bass move offshore and either suspend in treetops or hunker down in deep water. 
After a quick lowlight bite first thing in the morning, my family and I started to read that graph and drop shot Kentucky (Spotted) bass. We caught them all day in slickwater, on a bluebird day, with soaring temperatures.
Taking the time with the electronics saved that vacation and we had a blast catching fish.
Pros Have Tough Days Too
It is easy when the day is tough to fall into the mental trap of not thinking we can catch fish. 
It is really hard when you walk to the scales with one little bass and someone holds up a twenty-pound bag. The very next event could be a total reversal though. It happens. It happens all the time.
All the attention is paid to the top and it is easy to forget the real truth –  some days you get them, other days you don't. The reason for all the practice, time on the water, and hours with the electronics is an attempt to minimize those bad days.
This leads me back to wise words that Mark Davis told me.
He said, "When things are tough, fish to your strengths."
He then went on to explain that the more time you put in the more strengths you amass. I couldn't agree more.
Live Near a Great Body of Water
This seems to be an almost universal trait of top bass anglers. They live near rivers or impoundments that are world-class.
If they don't, they often pack up the family and head across the country to plant their roots near a top fishery. That in itself takes commitment.  
At first, it may seem that this would make catching fish easier. True, great fisheries have big fish and lots of them.
That is the key – lots of them.
It is hard to practice and learn about bass when the water you live on or near just doesn't have that many fish in it. 
Being close to a great body of water with lots of bass allows an angler to practice a myriad of techniques and approaches. Many athletes say that perfect practice makes perfect. In other words, practice how you are going to play.
Being near a good lake or river makes that possible. I know for many of us, that is not an option, but maybe taking a trip to a renowned fishery once a year is a great idea.
If someone aspires to make this a career then it seems that it is almost a requirement. 
My near-future plans take this to heart. My home lake is awesome, but in comparison to world-class fisheries, I would have to grade it a D-.
Soon I hope to have a new truck and truck camper. This will allow me to live on the road for many weeks at a time and back that boat into one amazing water after another.
I can't wait.
Final Thoughts
Bass fishing is great because we are always learning. To take your angling to the next level is forever linked to the following attributes and dedication to the tools at our disposal.
Be Patient and Persistent
Improve all Casting Techniques
Spend Countless Hours on the Water
Master Those Electronics
Understand Even the Best Have Tough Days
Try to Have Access to a Top Fishery
Spending time outdoors and with friends and family is paramount, but pulling in a few extra bass each outing works for me too.
I try to keep learning and getting better in each of the above areas. 
Tight lines. Be safe and don't forget to encourage someone today. You never know how you may change their life forever.
Isaiah 6:8