Like most animals in the wild, bass are creatures of habit. They have very specific seasonal patterns and needs that make them predictable, yet there may be times where they just seem to be impossible to find. That is where search baits come in handy.
To figure out where bass are, you need to have baits that can search them out. These lures allow and angler to cover a lot of water and get the bass to reveal themselves. Once they are located, there may be better lures suited to actually catch them at that moment, but search baits will help you know where the bass are hanging out in any given day.
In this article, I will go over some of the most popular search baits and how I use them to keep the bites coming.
What is a search bait?
A search bait is any lure that can help you know where the bass are. There is not one specific lure, but rather a bunch a lures that can work to help locate bass. There are two criteria that I use when looking for a bait that will help me locate both largemouth and smallmouth.
I need to be able to cover a lot of water
I need to be able to make long casts
Covering Water to Find Bass
I hesitate to use the phrase "fish fast." I don't mean that a search bait is one that you reel quickly back to the boat. To cover water means that it most likely is a bait that is presented horizontally, as opposed to something is fished with a more vertical presentation – like a Texas rigged worm.
The goal is to bring the search bait across a variety of depths and types of cover to see if a bass will reveal itself. Are they using grass? Are they using wood? Are they under docks? Are they near rocks? Are they on flats or close to deep water? The list goes on.

Long Casts
This goes right along with covering water. The ability to make a long cast directly translates to our lure in the water more of the time. Throwing a topwater thirty yards will cover way more water than a jig pitched to a specific target.
Certain lures are much more adept to making long casts than others. These are the lures we want to use as search baits
My Favorite Search Baits
There are four lures that I use consistently to help me find bass when I do not know where they are.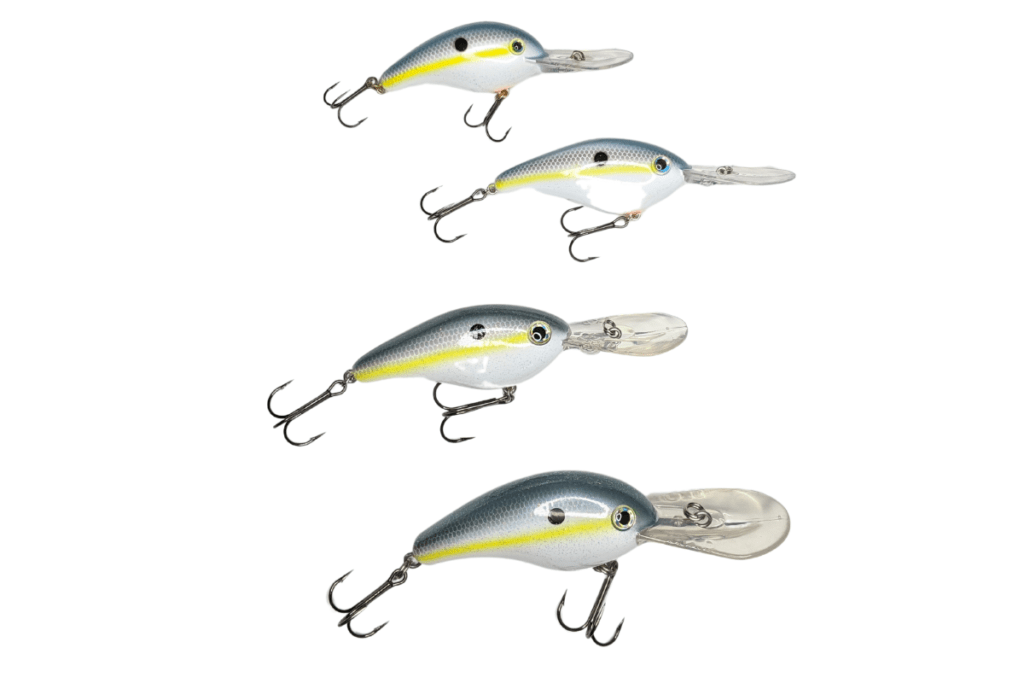 Deep Diving Crankbait
A deep diving crankbait meets both of my criteria for a good searchbait. It can cover water quickly and it can be thrown a massive distance. 
I use a deep diving crankbait as a search bait throughout the year when I am fishing lakes that have lots of deep water access points. This may be a long tapering point, following a creek channel in a reservoir, or probing ledges. 
A deep diver excels at getting reaction bites. That is what I am looking for.
This is most effective as a search bait when the lure is banged, bounced,and bumped off of cover and structure. 
I am looking to tick the tops of vegetation, bounce it off rocks, or crash it into a brush pile. 
The bass will most likely hit the lure on the deflection. When that happens, I now know what type of cover the bass are using on that day at that moment. If they are hitting when I pound through a brush pile, I might put the deep diver down and grab a jig and work those brush piles more thoroughly because they have revealed they are hanging out on wood cover.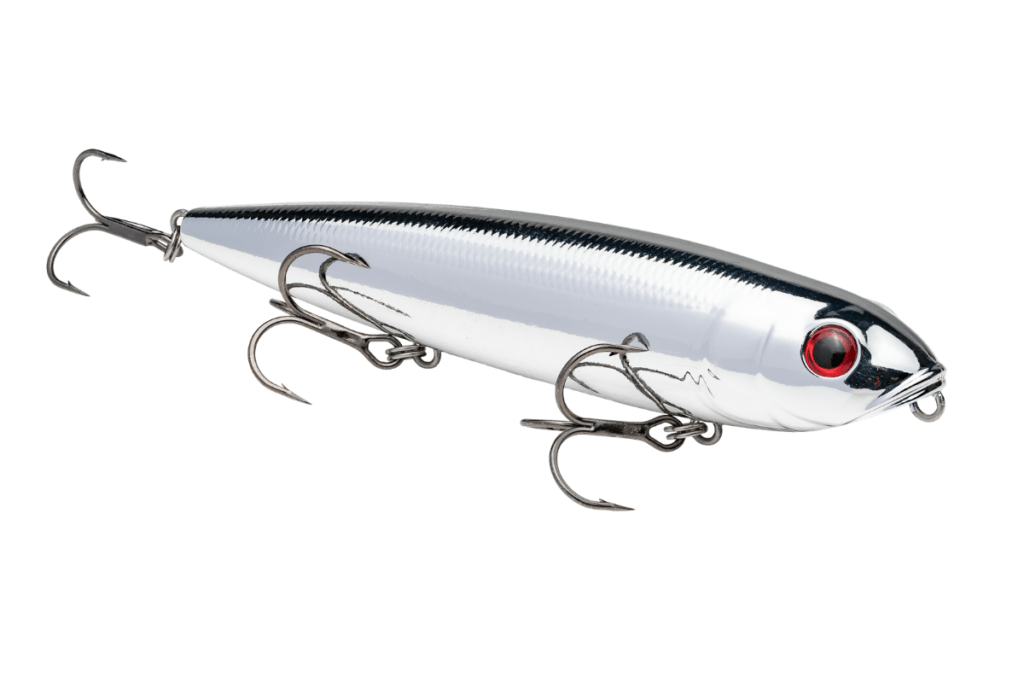 Topwaters
A topwater lure, specifically a walk-the-dog style of lure, may just be one of the best search baits out there. A Strike King Sexy Dawg, Zara Spook, and Lucky Craft Sammy are all excellent examples of topwaters that utilize the enticing walk-the-dog action.
This particular style of topwater will call bass up from a distance. 
Pay close attention to the lure as you are retrieving it. You may not always get a solid strike or hook one, but you may notice a fish following it, a boil next to it, or bass pulling out of cover and coming to take a look.
That is exactly what a search bait is supposed to do – get the bass to reveal themselves.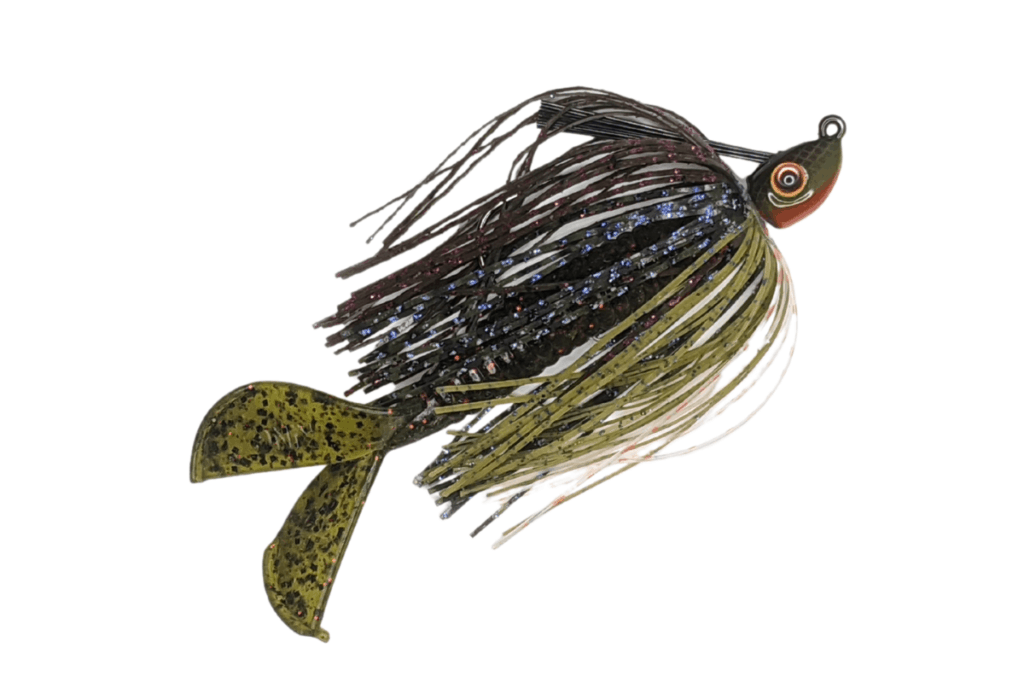 Swim Jig
This one has to be my personal favorite. A swim jig is so alluring as it moves through the water. It perfectly resembles a baitfish that is struggling. This is just too much for bass to resist.
They often will annihilate the swim jig, but on days when they don't eat it, the bass still reveal themselves to the angler.
It moves through cover with ease and allows an angler to work through weedbeds, brush, and a variety of other places where bass like to hang out.
Watch the water around the lure. I have had many occasions where I witnessed a huge fish come from the depths to look at the bait and then turn and head back down. Don't be upset the fish didn't bite. The searchbait did its job. You now know where that monster is hiding. Go back with something else and catch it.
The key to using the swim jig as a searchbait is the ability to make it look like a wounded baitfish. Use the instincts a bass has as their weakness.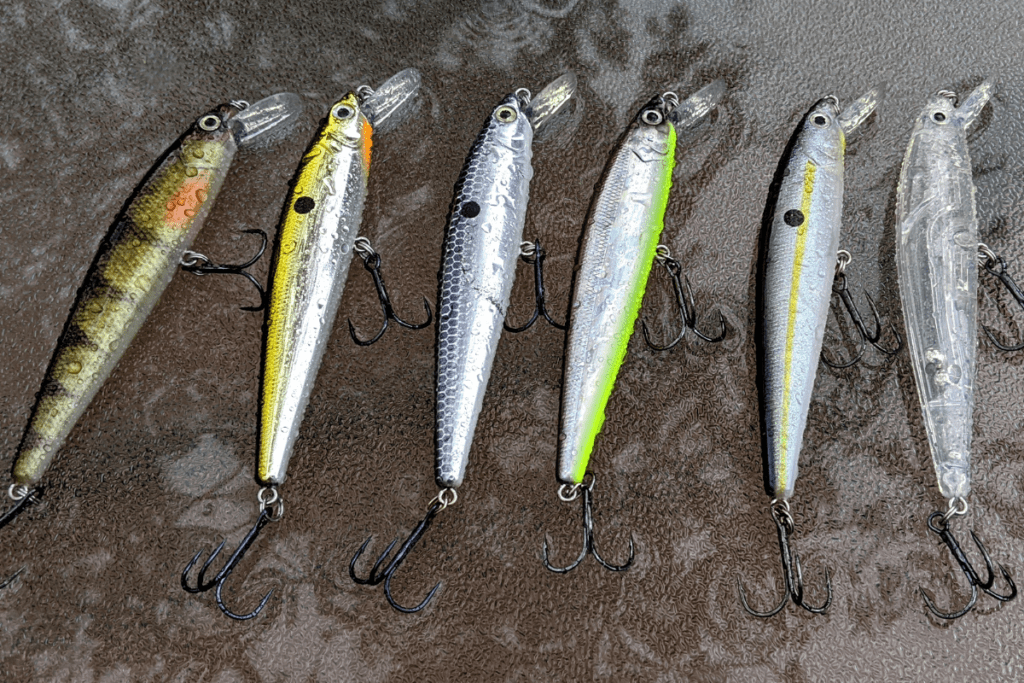 Jerkbait
You could definitely say that both a soft and hard jerkbait can fit into this category, but for a search bait I tend to stick with a suspending hard jerkbait.
When the retrieve is done correctly, this lure is a master of making bass reveal themselves. 
I have seen bass come charging out of thick cover twenty yards away to investigate a jerkbait slashing through the water. This lure works to locate fish during all seasons, but I especially love it during the warmer months. 
Many other anglers relegate these lures for cold water fishing, but let me tell you, they are perfect at finding and catching bass all year. 
That is why I love them so much in the summer because not many other anglers use them.
Follow-up Lures
Our hope is that these four lures will not only locate the bass, but it will catch them as well. Sometimes they do. Other days the bass prefer something else, but they came to look at the search bait. That is when you put that rod down and pick up another one.
On my home lake there are endless expanses of vegetation. Some of these weedbeds are massive. I will use a swim jig to probe around the grass. When a bass reveals where it is at but doesn't commit, I use that information to switch to a follow-up lure and target the specific areas they are holding in.
For example, I might grab a wacky rigged stickbait. If that search bait found the bass are hanging in pockets of the weedbed, I will probe every one that I can find with the wacky rig. 
A follow up lure is any that can be fished slower and more deliberately through an area once you have located bass.
Some perfect follow up lures, besides the wacky rig, can be a jig, Ned Rig, drop shot, and a Carolina Rig. The characteristics are all the same. These setups allow the angler to investigate the areas where the bass showed themselves.
Final Thoughts
We all hope that we don't need a follow up lure and that bass will just cremate the first offering that we are throwing – and some days they do. 
However, when we head to the water and we do not know where they bass are, these types of lures can help us cover water and locate them.
There are many other lures that can work as search baits and maybe you will find some of your own favorites, just remember the two criteria: cover lots of water and be able to make long casts.
Good luck out there and be safe.