What a loaded question. You ask 1,000 die-hard bass anglers and most likely you will get several hundred different answers. So, maybe the question should be reworded: What is the most consistent bass lure? 
In other words, what will catch fish year-round and through all sorts of conditions.
When polled, anglers in the Facebook Group: Bass Fishing Life, believed that a senko style bait, or a stickbait, is the most consistent bass lure on the market. This do-nothing bait is often rigged weightless. The bite usually happens on the fall as the lure shimmies its way to the bottom of the lake.
In this article, I will go over popular stick baits on the market and the most effective methods of rigging them.
What is a Stick Bait?
Many anglers refer to a stick bait by the name Senko. This is a brand name given to the lure by Gary Yamamoto Custom Baits. The company name heralds from the owner, Gary Yamamoto. Gary has been a successful tournament angler and lure manufacturer for decades. His brand of stick bait, the Senko, has become synonymous with this style of soft plastic. Much like how Kleenex is used interchangeably with the term tissue, yet Kleenex is a brand by the Kimberly Clark company.
Below is a table of the most popular stick baits and their manufacturer.
Stick Bait Info
| | | |
| --- | --- | --- |
| Manufacturer | Lure Name | Lengths Offered |
| Gary Yamamoto | Senko | 3,4,5,6,7 in |
| Strike King | Ocho | 4,5,6,7 in |
| Strike King | Zero | 5 in |
| Strike King | Shim-E-Stick | 5 in |
| Berkley | The General | 4,5,6 in |
| Bass Pro Shops | Stik-O | 3, 4.25, 5.375, 6, 7.125 in |
| Yum | Dinger | 3,4,5,6 in |
| Zoom | Beatdown | 3.25 in |
| Zoom | Zlinky | 5 in |
| Z-Man | Finesse TRD | 2.75 in |
| Z-Man | Big TRD | 4 in |
As you can see, there are a lot of options on the market and this is just a small sampling of what is out there.
History of the Stick Bait
An article from Bassmaster.com gives us an interesting look at the development of this lure that changed bass fishing forever. 
The lure, according to Yamamoto, was initially designed to be another version of a soft jerkbait. "I originally wanted to make a twitch bait like the Slug-Go," Yamamoto says, "but after the initial phase of testing it turned out that the Senko was better as a finesse bait."
Yamamoto was out fishing on Sam Rayburn Lake in Texas and saw a fish on a bed.  "When I casted to it I missed by 4 feet and thought I had to try again because they typically ignore things that aren't in the bed. As the bait fell, I saw the fish come off the bed and pick it up. That's when I knew there was something special about it."
The popularity of his creation created a brand and one of the most iconic companies in the bass fishing industry. I find his inspiration for the lure fascinating, "I got the idea for the shape from a Bic pen I had. I made up some wood prototypes then called the office and told them to make a mold from this pen."
In the fishing industry, it is often a practice to mimic popular lures. If that is the standard against which Gary Yamamoto's lure is measured, than it is a huge success. Nearly every soft plastics manufacturer has created their own version of a stick bait.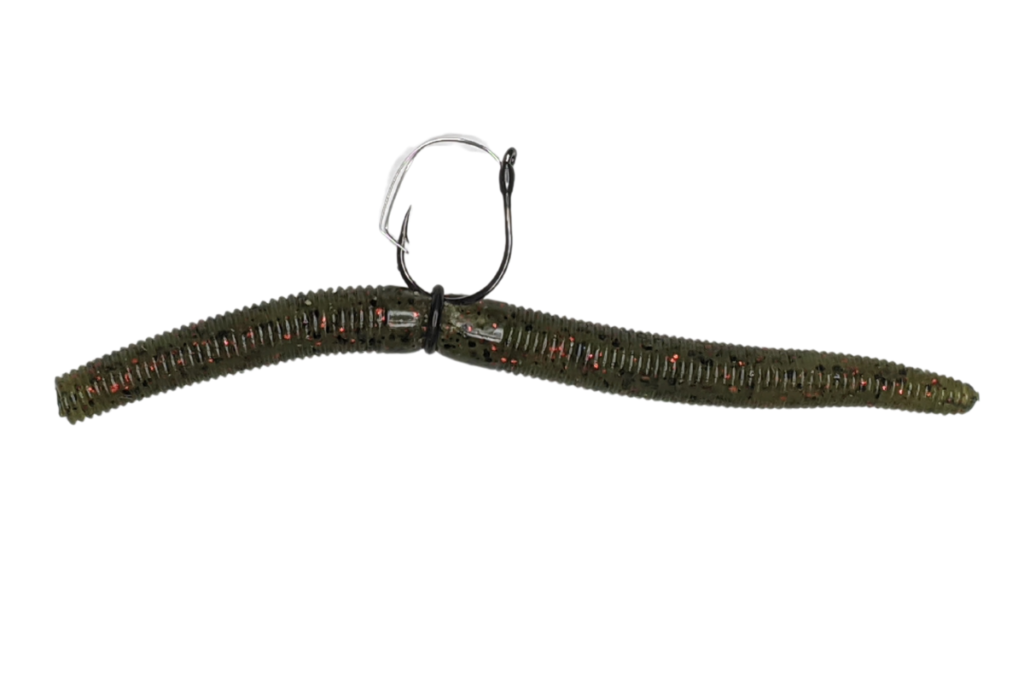 Rigging Stick Baits
Wacky Style
By far, the most common method to rig this popular lure is weightless. Most anglers will fish this bait "wacky style." This essentially means, you run a hook through the middle. (See Photo)
Stick Baits rigged in this manner will shimmy on the drop and drive bass crazy. It not only works when the bite is hot, but it also is a great finesse tactic that still produces when bass seemingly have a case of lock jaw.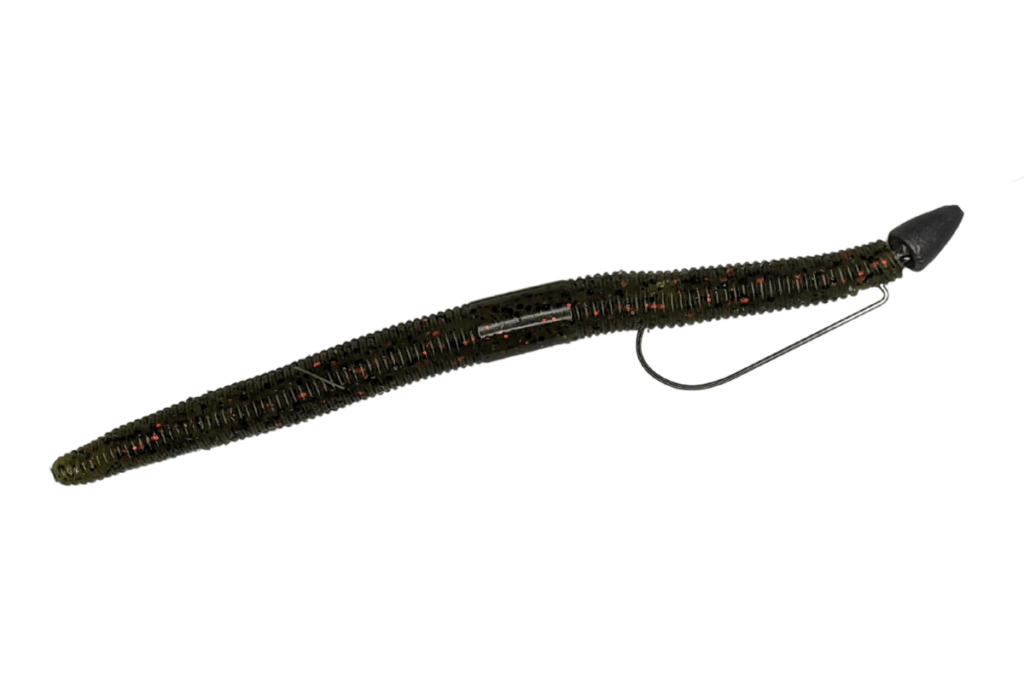 Texas Rig
Many anglers also love to hook this bait with a traditional Texas rig. When stick baits are prepared in this manner, they may have a weight added to them or still fished weightless. 
Texas rigged stick baits come through thick vegetation with ease and are popular in lakes and rivers with lots of grass. These lures, when weightless, can also be twitched and jerked much like a soft plastic jerkbait would be.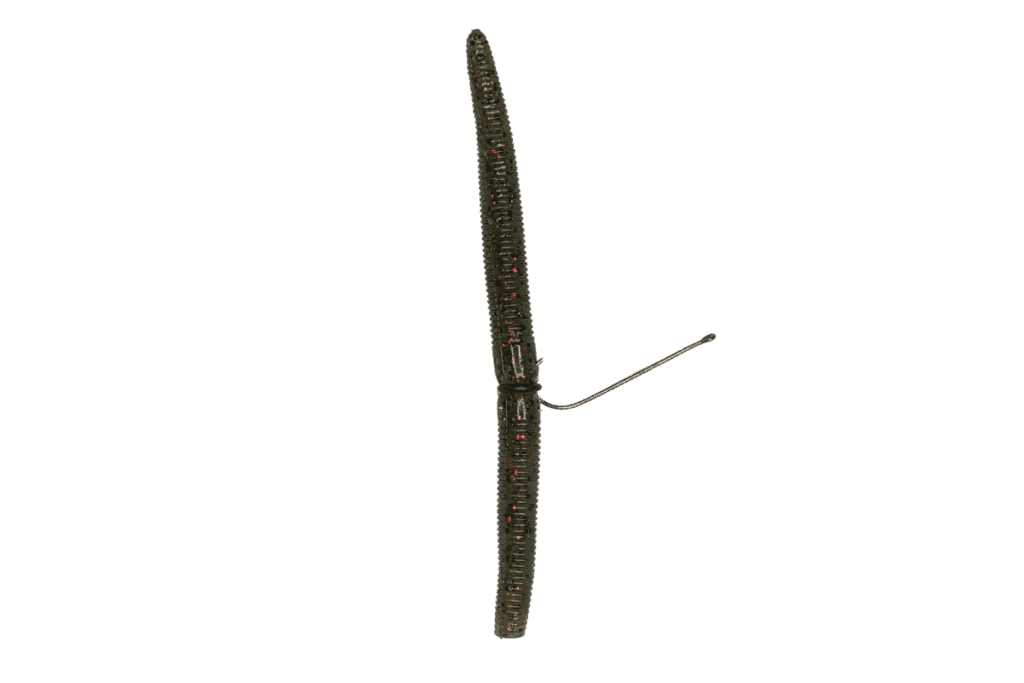 Neko Rig
In the last few years, taking a stick bait and rigging it Neko style has proved to be a powerful method to put some huge numbers of fish in the boat.
With a Neko setup, a nail, screw, or another type of insert weight is slipped into one end of the bait. The hook is then Texas rigged, backwards. (See photo)
Hook Choice for Stick Baits
The stick bait has probably seen more variations of hooks designed for this one lure than anything else on the market. A quick trip to your favorite tackle store will boggle your mind with wacky rig hooks alone. 
You can keep it real simple and use a standard worm hook or you can buy some of the more specialized hooks that come with handy options like weed guards.
Using O-Rings
One of anglers biggest complaints with the stick bait, or Senko style bait, has to be its durability. It is not unusual to go through several bags of lures during an outing, unless you are using a model made from Elaztech. Like the Z-Man models or the Zero from Strike King.
Savvy bass anglers have designed several different types of o-rings and o-ring tools to help keep these lures from tearing so easily and being wasted. I myself, love to use o-rings and have found them to be a worthy addition to my wacky rig setup. (See Photo)
Color Choice for Stick Baits
Like most lures, there are literally hundreds of colors to choose from. If I were going to pick four colors to fill my tackle box with, I would buy the following: green pumpkin, black-blue, watermelon with red flake, and some sort of white or silver. 
These four colors for stick baits will serve you well and catch plenty of fish. Once you have a full stock of these popular choices, you can then start to broaden your selection and fine-tune your favorites from there. 
Final Thoughts
Is the stick bait, or Senko style bait, the best bass lure on the market? I think you could definitely make that argument due to its versatility and fish-catching prowess in all types of waterways across the country.
If you haven't made stick baits a part of your repertoire, then it is definitely something I would stock up on sooner than later.
Tight lines!