Bass angling is a humbling sport. There are days when we can do no wrong and it comes easy. Then there are days that every move results in failure no matter what we do. These tips will help right the mental ship sailing in that bass angling brain and push you to the next level.
Anglers can take their bass fishing game to the next level quickly and easily by considering the following approach to their favorite sport.
Keep an Open Mind – Be Humble
Remove Past History
Don't Overthink the Situation
Little Fish Matter
Slow Down
Fish With a Friend
In this article, I will go over some simple and effective methods that will soon have you stepping up to that next level of bass fishing. I promise.
Keep an Open Mind – Be Humble
This can be tough for bass anglers.
We have all had moments, or know someone, that feels that when it comes to bass fishing – they/we know everything. 
Sound familiar?
Let me tell you a story I think about often.
I was preparing to fish a Bassmaster event on Lake Champlain in the early 2000s. This was my first trip to the famed fishery and to say I was excited –  well, my adrenaline was pumping hard.
In practice, I located a couple of areas that yielded some really nice largemouth and smallmouth on a jerkbait. 
At the pretournament and pairings meeting I met my co-angler for the next morning. We swapped techniques and details of our practice.
He mentioned to me that he was catching smallmouth real well on a drop-shot rig.
Remember, this was the early 2000s. This now-famous presentation had yet to take hold like it has today. It was still relatively new.
I turned my nose at the idea in a brash and completely arrogant manner.
The next morning my co-angler had five beautiful smallmouth in the livewell before I even had a single bite on the jerkbait. 
I learned my lesson and man, was it hard. I put down my jerkbait rod and told him I was a complete idiot and acted like a fool. His gracious demeanor accepted my apology and we discussed his particular drop-shot setup.
I soon had a limit. 
My point being, no one person will ever know everything about this amazing sport. That is what makes it so great. 
Keep an open mind and always be willing to listen, learn, and ask questions and I guarantee you will become a better angler. Not to mention, bass anglers love to have people listen to them so you will make a lot of great fishing partners.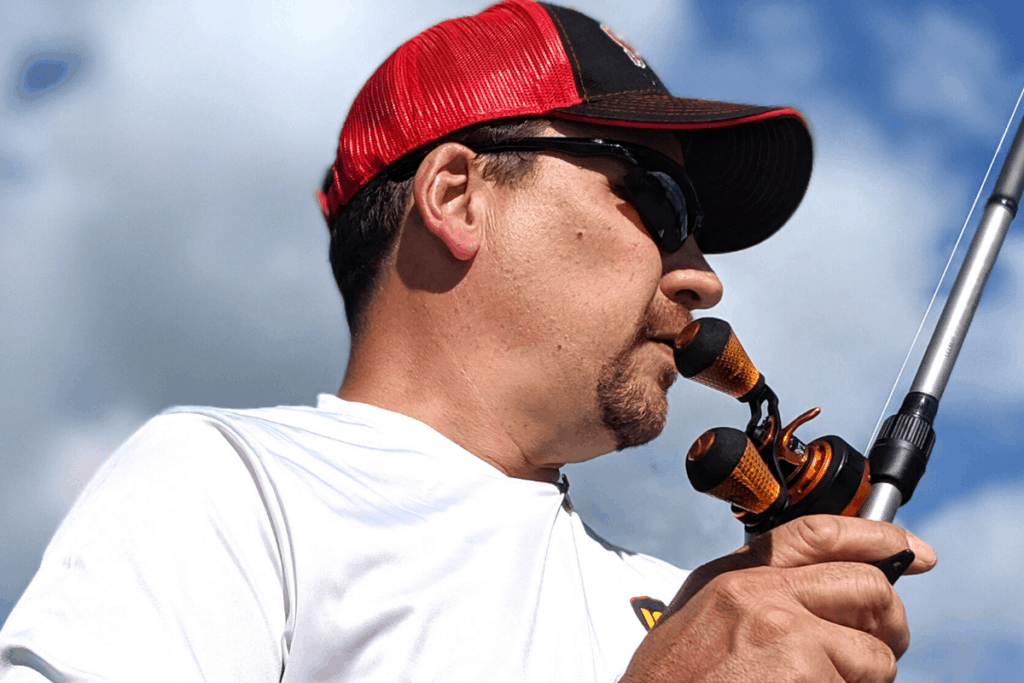 Remove Past History
As much as we all love to travel to new bass destinations, most of us fish the same "home" waters throughout the year. 
This is both a blessing and a curse.
Resorting back to old history can blind us to what is actually happening on the water that day under those conditions. 
I fall victim to this as much as anyone. It is hard to overcome. I have even found myself fishing a leeward bank because I have caught fish there before when the wind is pounding and pushing all the bait to the opposite shore. 
If I was on a new lake I would put the boat into the wind-blown bank every time. 
Keeping a clean mind and fresh approach to our home waters may be the most difficult aspect of bass fishing. It robs us of not only finding new locations to fish, but we often ignore the weather conditions all around us and head to that "honey hole."
To help rid myself of the past history problem, I like to analyze the weather and seasonal patterns before I even hook the boat to the truck 
What should be going on?
Where are the bass most likely to be positioned?
If this was a new lake, what would I throw first?
These questions force me to think about bass fishing at its basic level and not at a historical level.
There are times when past history can save our outing for sure. There are locations that always seem to hold fish. To become a better angler means using our history with fresh eyes. It can be challenging.
Don't Overthink It
Ever feel like you fall victim to this one? I know I do.
Gerald Swindle is one of the most lovable and funny bass anglers in the pro circuit. I was blessed to fish and turkey hunt with him one spring in Tennessee.
He talks about this "overthinking" issue all the time. 
I can't remember the exact quote, but it is something like this:
Don't overthink bass fishing. I guarantee they're not.
What Gerald is so aptly reminding bass anglers is that we are dealing with a fish, that has a small brain, that is solely acting on instinct. We add so many factors into the equation we often think ourselves right out of it.
When things get tough on the water just simplify.
Gerald will eliminate as many factors as possible. He loves to say you only need two colors. Black-blue and green pumpkin. If the fish aren't hitting black-blue switch to green pumpkin. When they aren't hitting green pumpkin switch to black-blue.
I love this mental approach.
This may oversimplify things, but I completely agree that often we make bass fishing harder because we get anxious when the bite is tough. We want to catch fish and start to second-guess everything when that doesn't happen as quickly as we want.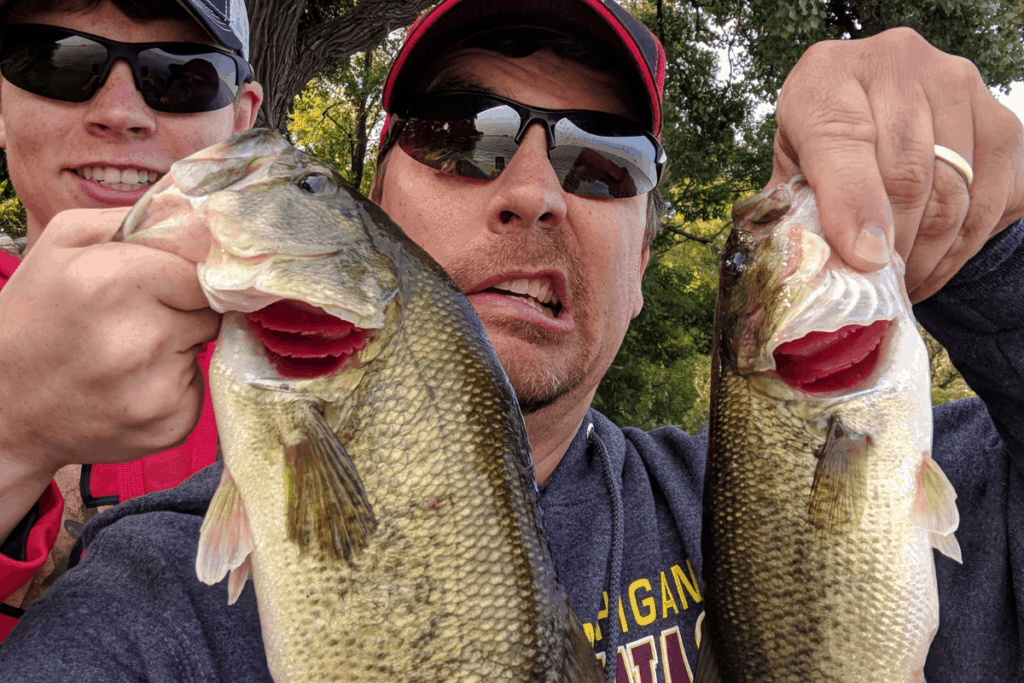 Little Fish Matter
This understanding has probably helped me more than anything else in recent years. 
Bass feel comfortable in certain areas under specific conditions. 
While big bass may rule and take the prime spot, scores of smaller bass will likely be in the same location.
Often, we need to work through the smaller fish to get a bigger bite. Using certain rigs lend themselves to catching everything that swims. Setups like a Ned Rig, Drop-Shot, and Wacky Rig catch a load of small fish as well as big bruisers.
When a group of small bass is found the tendency is to keep moving. Those little 1 lb'ers may be the key to unlocking a large school.
As spring moves into summer, this is especially true. Bass will move from the shallower spawning locations and pile up on summer structure. Hooking an over zealous youngster can reveal some bruisers hanging in the same area.
Identify where fish are at and work through the small bites. A personal best may be waiting for you.
Slow Down
So often less-is-more in the bass fishing world. 
Yes, there are times when burning a lure, ripping a jerkbait, and fishing fast can draw reaction strikes. Those moments are fun and memorable. Too often the conditions require a more thorough approach.
When the bite is tough our tendency is to shake, wiggle, and move a lure more to entice a fish to hit it.
Many times that additional movement repels the biggest bass.
Think about how many times anglers have a backlash or some other problem and leave the lure sitting on the bottom and a fish takes it.
This has happened to me quite often and many of those fish were brutes. The mindset is often one of "luck." It should be a moment that tells us to slow down.
The natural movements within the water column often impart more than enough action to make those soft plastics look natural. Letting a bait sit can be a good approach.
It is also important to understand that the era of high-speed reels changes our lure movement in a major way. A 7.3:1 gear ratio recovers 30" of line per turn. That is almost three feet!
From our perspective on the front deck of the boat or standing on the shore, one rotation of the reel handle doesn't seem like much. In reality, that lure is flying along the bottom. 
Some of the best anglers I know are also the most patient. 
Fish With a Friend – Differently
One of the greatest gifts bass fishing can give us is friendship. 
While the comradery is great, use that opportunity to experiment with different lures and presentations until a solid pattern is dialed in.
Even if both anglers are throwing the same lure, keep different colors on until one is clearly out-performing the other.
When I was younger, I always looked at another angler in the boat as competition. Not anymore.
The chance to have two people deciphering the conditions and mood of the fish is a blessing. If partners work together the chance is there to figure something out much quicker than fishing solo.
Anglers that fish team tournaments know this and are successful at implementing the divide-and-conquer approach. Besides, who knows what that other person in the boat may teach us. As I talked about earlier, I learned my lesson about drop-shotting the hard way. I made a promise to myself to always learn something every moment I fish with someone. It has paid off.
Final Thoughts
It's not a surprise that the most effective way to become a better angler is to conquer that battle between our own ears. 
Bass fishing is a sport where age helps us. More experience, more memories to pull from, and more opportunities to learn from others can all add up to becoming an excellent angler.
Keep an Open Mind – Be Humble
Remove Past History
Don't Overthink the Situation
Little Fish Matter
Slow Down
Fish With a Friend
These six simple and effective approaches to this amazing sport will make a difference immediately. 
Tight lines. Be safe and be sure to encourage someone today, you never know how you may change their life forever.
Isaiah 6:8